Issues with Managing a Rental Property from Overseas | Bethesda Property Management Tips
If you're moving abroad and you decide you want to rent out your home rather than sell it, you really need to hire a professional property manager. Many owners who try to do it themselves don't take into consideration things like time changes, methods of communication, and the occasional emergency which requires a quick response.
Property Management DC: Managing the Tenant
There's a lot of work involved in preparing a home before you rent it out to a tenant. If you're not in the country, you'll have a hard time guessing what the market is demanding and how your house is showing. You need to think of anything that might inconvenience a tenant during the move-in or once possession is taken. For example, your kitchen might be completely remodeled and new, except for the oven. If the tenant reports that the oven isn't working two or three months after moving in, will you be able to manage the delivery and installation of a new appliance from overseas? Your tenant can quickly become frustrated that you're difficult to reach and that things aren't getting done.
Property Management DC: Managing the Property
When you're in a different country than your rental properties, you need to have a plan of action. You're not around to maintain the tenant relationship, and you're also not around to keep an eye on the condition of your property. It will be difficult to inspect the home, to respond to maintenance, and to get multiple quotes from good local vendors. You don't want to be looking for a plumber on Google from thousands of miles away while your tenant is dealing with a flooded bathroom.
Professional Property Management in Bethesda
Whether you're out of the country for a military move or you're simply traveling for pleasure – a good property management company can provide peace of mind. When you work with professionals, you'll have a local expert managing the leasing process and the ongoing management. You should be given access to a portal that shows you how your property is performing, when rent is coming in, and what repairs need to be made.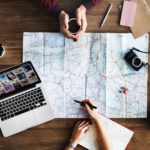 Let your property manager handle things while you're out of the country. If you have any questions about your military relocation, job transfer, or anything pertaining to property management in Bethesda, please contact us at AW Manage. We'd be happy to help.